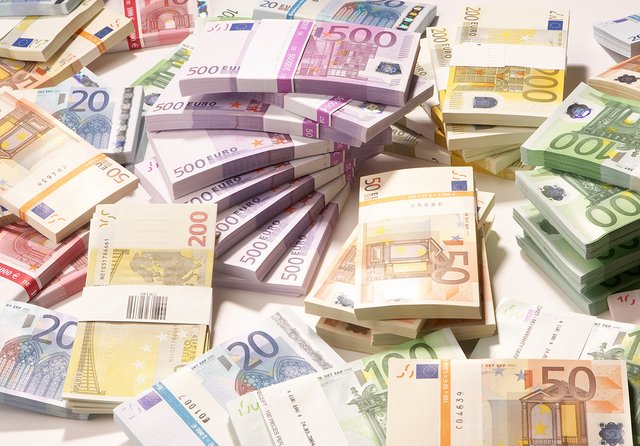 The Figaro gives us a solid hint about the true financial health of the eurozone, and more importantly its citizens. It strikes us as odd that Germany and Holland are the big winners, but the elites have decided that way. For a few to win, many must lose. The "casino economy" is, once again, documented.
The Euro was supposedly created to regulate the exchange rate between European countries, and simplify trade. We really wonder, because it is obviously an utter failure. Controlling the money supply always lead to this type of problem.
Furthermore, if you remember twenty years or so ago, how lawmakers were raving about it and assuring the crowds that it would bring about prosperity and parity with the dollar. Right? Forget about the parity, the euro currency is 30% more expensive than the dollar. Meaning that the costs of living are too higher while the average wages aren't better than which in the US.
According to WIKI, and we will rather trust WIKI for this type of data, the average wage in Portugal is 935 Euros; France 2,200 Euros; Spain 1,800 Euros; Italy 1,800 Euros. To give you a small idea.
And this German study does not even take into account Eastern European nations because it is just not worth it mentioning them. There the average wage is between 500 and 900 euros. They have been completely left behind. That is what competition is all about.
To be honest, we do not think these numbers tell the whole story, because there also is the national debt, which the Figaro seems to elude. But there you have it, Europeans have been taken for a ride. The currency does not work as it has impoverished most of the eurozone. Mission accomplished?
Our conclusion is simple: time for a Resource Based Economy, folks!
According to a German study, the euro would have particularly harmed the French | 27/02/2019
http://www.lefigaro.fr/conjoncture/2019/02/27/20002-20190227ARTFIG00101-selon-une-etude-allemande-l-euro-aurait-particulierement-nui-aux-francais.php
Country…….. cost/profit by country 1999-2017………..cost/profit 1999-2017 per inhabitant
Allemagne………+1893 milliards d'euros…………………………+23.116 euros
Pays-Bas…………+346 milliards d'euros……………………………+21.003 euros
Grèce…. ………….+2 milliards d'euros……………………………….+190 euros
Espagne…………-224 milliards d'euros…………………………….-5031 euros
Belgique…………-69 milliards d'euros……………………………..-6370 euros
Portugal …………-424 milliards d'euros……………………………-40.604 euros
France…………… -3591 milliards d'euros…………………………..-55.996 euros
Italie……………….-4325 milliards d'euros……………………………-73.605 euros
(2019) Regional inflation edged up to 3.0% in July (June: 2.8%), due to faster price increases for food and recreation. Inflation accelerated in most economies except for Hungary and Estonia. Healthy growth in domestic demand and rising wages will sustain inflation going forward, although intense international competition will cap overall price pressures.
https://www.focus-economics.com/regions/central-and-eastern-europe
Eastern Europe's Lethargic Economies (2016)
(also blaming low birth rate)
https://www.piie.com/blogs/realtime-economic-issues-watch/eastern-europes-lethargic-economies