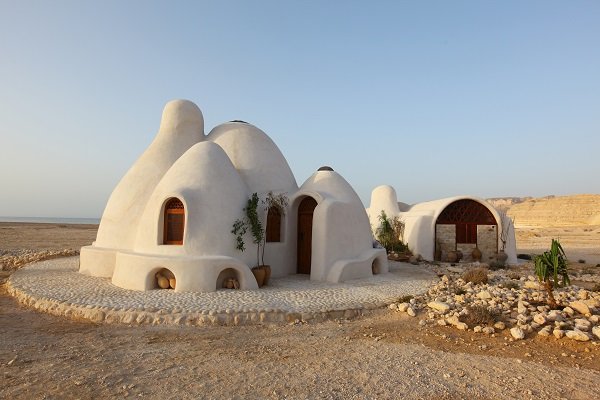 Earth Custodians decided to revive some great data. That data is not new as you can read. From 2004… meaning that the concept has been out there for at least 15 years already. We generally tend to forget about good and practical ideas because the world we live in is utterly stressful, and we also often have all the (so-called) good reasons to delay what we could change in our lives because we are so used to struggle to make ends meet. But if you do not have a house yet, this blog may give you some good ideas.
What is kind of upsetting in this case is that the concept got an award such a long time ago and obviously it didn't revamp the way we generally build homes at all. But that shouldn't come as a surprise as they are quite cheap to build, that most contractors wouldn't be interested in. Or that the state regulations makes it difficult to build one, which is also a possibility because the "construction business" is a cartel.
But they do get built in Calif and various other places in the world, as the video establishes. It is very likely that since the superadobe technique got such a reputable buzz, that you'd be able to build one in your state.
The whole point is the following: when you look at all these videos in this blog, it really demystifies the concept of owning a house. Sure, a home that makes us feel at home offers a peace of mind. But we also can imagine how easy it will be to help others who need a place, contributing to money-free society while also learning great skills. It is clear that our society is over-regulated because of profit seeking, and this prevents us from manifesting genuine empathy and sharing.
On a more interesting note, the Earthship model as designed by Reynolds initially in the state of NM, and which was supposed to be reforming the sector is unfortunately no longer really affordable as the starting price is around $250K if the Earthship Crew handles everything from A to Z.
PS: Khalili was very influenced and inspired by the poetry of Persian writer and philosopher Rumi, who wrote: "The earth becomes gold in the hands of the wise".
The superadobe is a technique developed in the 70s by the Iranian architect Nader Khalili , founder of the California Institute of the Earth Art and Architecture .
Its objective is to build cheap and resistant homes with low environmental impact. Tiny homes aren't just a trend. At Cal Earth Architecture, they're a necessary part of life. With a mission to offer both affordable and sustainable housing solutions, CalEarth uses an innovative SuperAdobe design that is earthquake, fire and flood resistant.

Cal-Earth, the California Institute of Earth Art and Architecture
https://www.calearth.org/detail-nader-khalili-series

Incredible Dome Home Built with Earth Bags – Sustainable SuperAdobe House 

https://www.youtube.com/watch?v=_8IEuKECttM

original link: https://muhimu.es/medio-ambiente/casas-ecologicas-superadobe/?fbclid=IwAR1hZhD0Yiz4KotXvpkoan2sYBA–TnGBuadx4haH4vXOj_KZtkgkjd0qpQ
Air crete dome homes