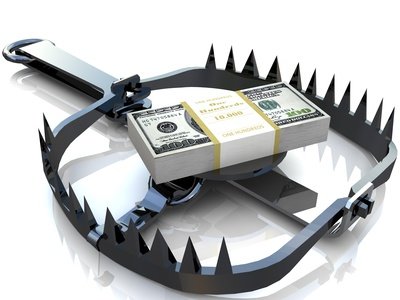 Monsanto and Bayer's backgrounds are all over the net for those willing to dig beyond the mainstream. But if you haven't done so yet, watch the James Corbett report. His videos are generally huge eye openers. And this one below is another series of jaw dropping facts.
Global predators always collude as profits are what matter most.
Did you know that when Monsanto "discovered" saccharine, it signed right away a contract with Coca Cola, so that the soft drink giant could begin to sell "sugar free" sodas? Over the last 2 decades, countless studies have concluded that "fake sugar" induces cancer. This is market violence.
If a system cannot prevent, or encourages, such criminal anomalies, then that very system needs to be abandoned. Reforms have been proven useless. 
Shareholders and investors cheering the good news that some judge made it even harder to sue Monsanto-Bayer is "market violence". It is yet another case exposing the inherent flaws of monetarism, which obviously cannot prevent the takeover of the world food supply. If you still doubt the need for Voluntaryism, just watch the Joseph and Molyneux debate.
This is a sad day for the Voluntaryism but EC are looking forward to expanding their horizons and spreading the word restlessly in 2019!
Best wishes for 2019 to all!
Peter Joseph Educates Stefan Molyneux on Market Violence
Bayer Shares Jump After Monsanto Weedkillers Court Ruling
01/04/19 10:04 AM EST BERLIN– Bayer AG shares rose by more than 4% Friday after the German chemicals company scored a court victory in the run-up to crucial trials over whether recently acquired Monsanto Co. weedkillers can cause cancer. U.S. District Judge Vince Chhabria granted a request late Thursday from Bayer to stagger the submission of evidence in the so-called bellwether trials, potentially limiting the evidence presented by the plaintiff's lawyers to the jury. Bellwether cases are selected to test arguments and gauge possible recoveries for other similarly situated plaintiffs in an attempt to reach a large-scale resolution. The judge granted the request for "bifurcation"–essentially a split of the trial into two phases. Lawyers for the plaintiff must demonstrate that the chemical glyphosate in the weedkillers caused his cancer, before they can present evidence that manufacturer Monsanto, now owned by Bayer, acted with malice.
https://www.morningstar.com/news/dow-jones/TDJNDN_201901044318/bayer-shares-jump-after-monsanto-weedkillers-court-ruling.html
Oct 2018. A California judge on Monday slashed the punitive damages against Bayer AG (BAYRY) that had been awarded by a jury in a lawsuit involving Roundup, a weed killer produced by Monsanto. San Francisco Superior Court Judge Suzanne Bolanos followed up on a tentative ruling she issued earlier in the month, and said that the $250 million in punitive damages would be cut to an amount equal to the $39.25 million in compensatory damages that the jury found appropriate. She also denied Monsanto's request for a new trial, according to published reports.
https://www.thestreet.com/investing/stocks/judge-cuts-jury-award-against-bayers-roundup-14753148
Bayer Buys Monsanto: Two Deadly Corporations Now Become One
Bayer + Monsanto = A Match Made in Hell (Corbett report)  
OUR SECURE ADDRESS IS