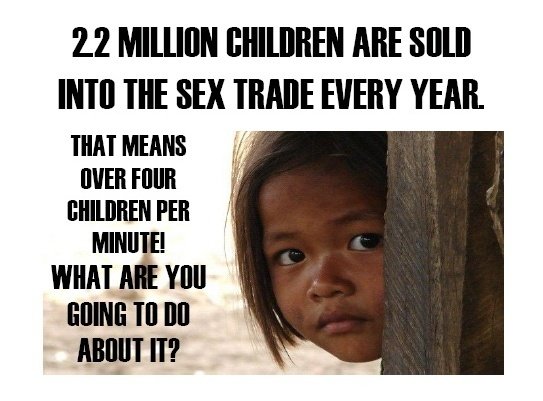 The incentive is really monetary/profit driven: a society that monetizes its children (and organ trafficking as well) has a monster karma that will hit us back in due time. But let's not fool ourselves, child/human trafficking is nothing new. It is just getting a lot worst as time passes by
How many people have not gone through abuse or molestation as kids? The abuse is taking place in all social arenas, not just among the poor. Monetizing Life is "dark magic" however. Yes, just think about it. Because money is a world religion, which most people would do just anything for. 
http://www.earthcustodians.net/blog/2018/05/25/us-religious-groups-generate-more-money-than-microsoft-and-apple-combined/
Then of course a "sane" society would never do that and because such kids would grow older with a mindset that is way more balanced, social abuse in whatever shape would be regarded as an extremely minimalist occurrence, and dealt with accordingly.
But when kids go through violence, sexual or not, all they seek is to repeat the trauma over and over in the adult age, until the expanding trend exponentially begins to tear apart the fabric of society itself… that very possibility is not too far away now. Just look around… honestly.
Please bear in mind that the 20-30 billion digits were a projection made ten years or so ago. There is no readily data available it seems. You are welcome to post any jaw dropping data in the comment section. Further more, how many people who wouldn't miss the super bowl for anything in the world are aware of its intense drama taking place behind the curtain? So much for the sport celebrity cult and the biggest commercials of the year. Indeed!
Feb 06, 2013 Super Bowl Is Single Largest Human Trafficking Incident In U.S.: Attorney General
http://www.huffingtonpost.com/2013/02/03/super-bowl-sex-trafficking_n_2607871.html
US lost track of 1500 Mexican children but says they are not 'legally responsible'
http://www.orrazz.com/2018/05/us-lost-track-of-1500-mexican-children.html
March 15, 2006 | Currently, child pornography is a $20 billion a year black market industry worldwide and is expected to become a $30-$35 billion a year industry by 2009. https://abcnews.go.com/GMA/LegalCenter/story?id=1728291&page=1
Unlike, say, the soft-drink or airline industries, the child-pornography industry doesn't report its annual sales to the Securities and Exchange Commission. Yet in a press release ahead of a recent House of Representatives hearing aimed at curbing the industry, Texas Republican Joe Barton said, "Child pornography is apparently a multibillion business ; my staff analysis says $20 billion-a-year business. Twenty billion dollars." Some press reports said the figure applied only to the industry's online segment. https://www.wsj.com/articles/SB114485422875624000 (for subscribers)
March 18, 2006 | Sales of child pornography rake in $20 billion to $30 billion a year, according to the National Center for Missing and Exploited Children. Hundreds of thousands of Web sites sell these images, some of them transmitted live over the Internet. https://www.deseretnews.com/article/635192558/Wage-war-on-child-porn.html
2010 | To root out the companies that supply an estimated $20 billion annual global child-porn market, the Financial Coalition Against Child Pornography — comprised of Internet service providers, financial heavyweights and technology companies — is working closely with law-enforcement agencies in the United States and around the world.http://www.eastvalleytribune.com/local/cop_shop/child-porn-industry-using-web-based-system-to-move-funds/article_2ee0f064-7888-11df-9e7a-001cc4c03286.html
April 5, 2018
Organ Trafficking And How Much You Are Really Worth
http://www.earthcustodians.net/blog/2018/04/05/organ-trafficking-and-how-much-you-are-really-worth/
Until a critical mass is reached (30% of population) donations via patreon, to help spread the word, are welcome.  https://www.patreon.com/earth_custodians_movement
Feel free to discuss this blog in our forum: