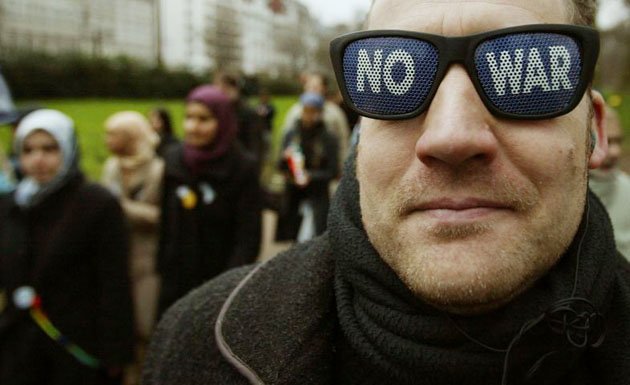 The Consensus is that war is a fatality of life, that Nature condemns man to remain an animal and fall prey to immorality because She made him cruel, gullible and greedy. The problem with such a Consensus is that it breeds a mindset disrespecting life as a whole, and thus immoral. The paramount of this immorality is without a doubt the 'business' of military interventions and silently watching or supporting them.
Nobody should feel safe when allowing the perpetuation of destruction enforced upon others. As long as humans tolerate the act of war, don't request the dismantlement of standing armies, it will remain impossible to thrive and begin to reinvent the meaning of societies.
Analyzing the phenomenon of war is highly discombobulating because it voids all values attributed to life, not to mention also questions man's made laws giving any ruling powers the absolute right over life and death, and that the 'art of killing' regulates world economies. War is the glue that holds all those contractions together.
There are many human rights organizations whose goals are the focus on humanitarian aid as the result of war and even claim to impose peace by arms.
Although animals are subjected to Nature, they do not disturb Nature's Equilibrium as a whole. Man has a mind to understand Her and his understanding can go both ways. He can either dominate human nature by making man believe that he is cursed to remain an animal to start with, or use Natural Laws for his betterment. In other words, it is his choice to remain an animal or not. Objectively speaking though, man cannot even be an animal since he can alter Nature. When behaving so, he just becomes a 'beast' of destruction.
We live in a 'culture of death' that springs from the assumption that man is an animal and which is a very faulty one as man has the dominion over the animal kingdom. And monetarism fuels Darwinism at a pace like unseen before, showing its true colors. If money was not able to end darwinism, money has to go…. simple
EXCERPT FROM http://www.celinek.net/empathsociety.html
Content reproduction is allowed with link to this site.
10 Best Defense Stocks for This Year – Top Stocks
https://www.thestreet.com/topic/21701/top-rated-equity-aerospace-defense.html
A $110 billion U.S.-Saudi Arabia weapons deal helped defense stocks scale an all-time high, while Lockheed Martin is poised to gain the most
https://www.zacks.com/stock/news/261541/defense-stocks-hit-alltime-highs-on-arms-deal-5-best-buys
Major defense stocks surge to all-time highs after Trump's tough rhetoric against North Korea
https://www.cnbc.com/2017/08/09/major-defense-stocks-surge-to-all-time-highs-after-trumps-tough-rhetoric-against-north-korea.html
Theresa May's husband's Investment Firm made a financial killing from the bombing of Syria
The fact that Philip May is both a Senior Executive of a hugely powerful investment firm, and privy to reams of insider information from the Prime Minister – knowledge which, when it becomes public, hugely affects the share prices of the companies his firm invests in – makes Mr May's official employment a staggering conflict of interest for the husband of a sitting Prime Minister. However, aside from the ease at which he is able to glean insider information from his wife about potential decisions which could go on to make huge profits for his firm, there is a far darker conflict of interest that has so far gone undiscussed. Philip May is a Senior Executive of Capital Group, an Investment Firm who buy shares in all sorts of companies across the globe – including thousands of shares in the world's biggest Defense Firm, Lockheed Martin….
https://evolvepolitics.com/theresa-mays-husbands-investment-firm-made-a-financial-killing-from-the-bombing-of-syria/
Feel free to discuss this blog in our forum: